© 2015 Bill Bartelt. If you are interested in purchasing any of Bill Bartelt's work, please contact him via e-mail or by phone at his Chicago studio: 773-230-3198.
MGM's "Return to Me" Gallery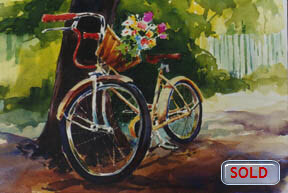 Original Watercolor Painted by Bill Bartelt for MGM's "Return to Me" starring Minnie Driver as a Chicago Artist.
About the Project:

Bill Bartelt took several weeks away from his own painting in the Spring of 1999 when he was asked by MGM Studios to see the world through someone else's eyes. In the new film "Return to Me," Minnie Driver portrays a watercolor artist who falls in love with a contractor played by David Duchovny. Bill Bartelt was commissioned to paint all the paintings used in the film. What began as a request for 10 to 15 paintings soon grew to a total of 45.
Available Prints | New Work | Chicago Cityscapes | Midwest Landscapes | European Travels | MGM's "Return to Me"